A Song For Us: Sound UK partnership
March 2022 saw us partner with Sound UK and Royal Welsh College of Music and Drama to premiere a brand-new song: Just Breathe.
UK-wide project A Song For Us commissions leading music creators to write new songs inspired by the people of their county. As part of the project, Sound UK and Royal Welsh College of Music and Drama co-commissioned Grammy-award winning and Aloud Ambassador Amy Wadge and The Aloud Charity's founder Tim Rhys-Evans to write a new song especially for Only Boys Aloud. It was an honour to represent Wales in such a far-reaching project. 
This anthem of a song discusses the struggles all of us experienced during the Covid-19 lockdowns, and specifically the frustration musicians and singers felt as they were told of the Covid-related risks that came along with singing. As Tim Rhys-Evans said: 
"The whole pandemic was about the fact that breath was spreading this disease: breath which is fundamental for singing. Breathing is also used to calm us down when we are in stressful situations… it seemed like a really nice metaphor for everything that we'd gone through." 
The song encourages everyone to take a breath – that powerful and literally life-giving force – and find hope and togetherness in the fact that we're not alone. Indeed, everyone from all around the world has felt the pandemic's impact. The song reminds us that "don't you know that you were never on your own." 
The live premiere of the song took place on 1st March – St David's Day here in Wales – where members of Only Boys Aloud Cardiff and Caerphilly choirs performed at Royal Welsh College of Music and Drama's Song For Wales concert. For many of the boys, this was the first time they had performed in front of a live, physical audience for two years. Hearing them sing such a relatable and emotional song along with RWCMD's Big Band, there wasn't a dry eye in the room; the energy was electric.
The online version of the song was premiered on 23rd March – which marked two years since the beginning of the first Covid-19 lockdown. You can watch the video of the song here:
You can also watch The Making of Just Breathe video here. Feedback from the boys highlighted how special it was to have a song written especially for The Aloud Charity, with one member saying:
"We wanted to create something that was a bit of an anthem for young people, a reminder to just breathe through it. I hope it will be something timeless that choirs for years to come will be able to sing."
Amy Wadge
Aloud Ambassador
Help keep the music alive
By donating today, you'll be part of the Aloud story, helping us provide positive, life-changing experiences for young people across Wales.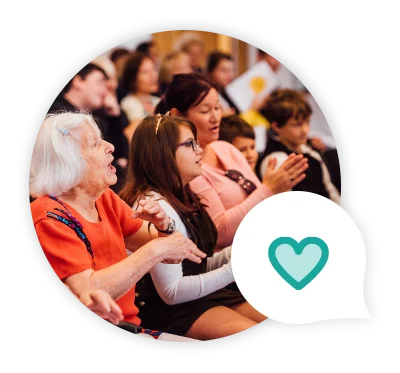 Calon means 'Heart' in Welsh and our Calon Members are the beating heart of The Aloud Charity, playing a vital part in our success.
Whether you want to run a marathon or take on your own charity challenge, you can help support our activity in your local area.