Wales – Japan Cultural Exchange
The Aloud Charity are proud to be continuing our cultural exchange with schools in Japan, providing opportunities for young people in Wales and Japan to learn about and experience each other's languages and cultures.
2023
Following our initial partnership during the Covid-19 pandemic, in Spring 2023 we continued our work with Midorigaoka High School in Oita. 
Our Only Boys Aloud Choirs and pupils from Midorigaoka High School learned and recorded a new bilingual arrangement of 'Hiraeth' featuring both Welsh and Japanese languages. This was the first time that our Only Boys Aloud members had performed in Japanese!
A new video was shared on the 1st March 2023 to mark the first anniversary of a Memorandum of Understanding between Welsh Government and the Oita Prefectural Government:
The team delivered workshops in 3 schools where they introduced pupils and the people of Japan to Only Boys Aloud repertoire, built connections with local Government officials, arts and cultural departments and companies with bases in Wales. Choir leaders also learned Japanese repertoire to take back to Only Boys Aloud choir rehearsals in the UK. 
The trip enabled the team to explore a range of opportunities for future partnership for our Only Boys Aloud choir members and young people in Japan.
2021
In Spring 2020, we were planning a visit for Only Boys Aloud to perform in Japan, following a new partnership between Wales Arts International, Arts Council Wales, The British Council and the Japanese Embassy.
Although the trip was cancelled due to the COVID-19 pandemic, we were determined to keep the planned singing project alive.
In 2021, we were delighted to take part in a virtual choral project with three children's choirs 6000 miles away in Kitakyushu, Kumamoto, and Oita.
Boys from Only Boys Aloud participated in weekly rehearsals with the Japanese choirs who learnt the rousing Welsh song 'Calon Lân', taught by our fantastic Aloud Choir Leaders.
To say thank you in the final sharing, the Only Boys Aloud choir performed the recent classic 'Anfonaf Angel (I'll Send an Angel)' written by Robat Arwyn and Hywel Gwynfryn.
We were so pleased that this important cultural exchange and sharing of Welsh Art was still able to take place
"We have been delighted that the use of technology has enabled us to continue this project and to build an artistic and cultural exchange between the two countries."
Craig Yates
OBA Acting Music Director
"It's a special pleasure to announce a collaboration between young singers in Wales and Japan. This St David's week, voices will be raised and our shared lives as citizens of the planet will be affirmed...
...A virtual tour does not take away the disappointment of the cancelled Japan visit last year but it stands as a statement of hope and solidarity."
Phil George
Chair, Arts Council of Wales
Help keep the music alive
By donating today, you'll be part of the Aloud story, helping us provide positive, life-changing experiences for young people across Wales.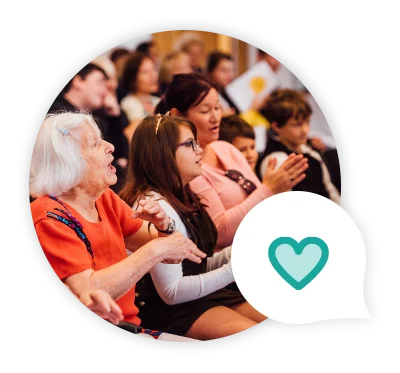 Calon means 'Heart' in Welsh and our Calon Members are the beating heart of The Aloud Charity, playing a vital part in our success.
Whether you want to run a marathon or take on your own charity challenge, you can help support our activity in your local area.