In addition to our core projects, we also host a variety of other singing activities for young people in Wales. We're proud of our partnerships and love discovering new ways to deliver high quality projects for new audiences.
Aloud in the Classroom: Transition Project
In 2023, we worked with schools to provide a creative transition experience which helped pupils gain confidence when moving from primary to secondary school. 
Two secondary schools (Ysgol Gyfun Rhydywan in Aberdare and Ysgol Glan Clwyd in St Asaph) took part, welcoming a combined total of 11 primary schools.
2022 marked 10 years of The Aloud Charity's work to transform the lives of young people across Wales.
Throughout 2022, we worked with Orchard Media on a new documentary series which provided viewers with a unique insight into the work of the charity!
The four part documentary was broadcast on S4C and included footage of our Only Boys Aloud, Only Girls Aloud, and Only Kids Aloud choirs.
In summer 2022, we launched a new album, Gen Z! 
The album features our three choirs: Only Boys Aloud, Only Girls Aloud, and Only Kids Aloud. Tracks range from West End hit You Will Be Found from Dear Evan Hansen to more traditional Welsh songs such as Gwinllan
Song writing with the Port of Milford Haven
In May 2022, we collaborated with the Port of Milford Haven, Marine Energy Wales, Celtic Sea Power and Offshore Renewable Energy Catapult on a songwriting project in Pembroke Dock. This song was created during a song-writing workshop with pupils from Henry Tudor School in Pembrokeshire to raise awareness for sustainable energy in the area and promote the Pembroke Dock Marine Project. 
We were proud to represent Wales as part of Sound UK's project A Song For Us in March 2022. This project commissioned leading music creators to write new songs inspired by the people of their county. In Wales' case, Grammy-award winning and Aloud Ambassador Amy Wadge and Aloud's founder Tim Rhys-Evans were commissioned to write a song especially for our Aloud choirs.
Inspired by the struggles we all experienced during Covid-19 lockdowns, the emotional song encourages us all to take a breath and remind us that we are never alone.
This project was one of our lockdown initiatives to provide members of Only Boys Aloud with something different and original to listen to. We felt it was important to offer variety in our weekly rehearsals, and our Aloud in Conversation Series complimented this ethos perfectly.
About once a month through 2021, we hosted hour-long, live interviews with some incredibly interesting and inspirational guests, including our Youth Ambassador Callum Scott Howells, fellow ex-OBA member Tom Hier, and Ambassadors Sir Bryn Terfel and Rebecca Evans.
Our wonderful guests were brilliant role models for our young members, discussing everything from embarrassing auditions, most memorable OBA moments, to their favourite Musical Theatre roles, and giving unique behind-the-scenes insight into their varied and successful careers.
Wales – Japan Cultural Exchange
We are proud to be continuing our cultural exchange with schools in Japan, providing opportunities for young people in Wales and Japan to learn about and experience each other's languages and cultures!
We were delighted to receive funding from the Arts Council of Wales to support pioneering Creative Collaborations project: 'Only Fitzalan Aloud'!
Grammy Award winning singer song-writer and Aloud Ambassador Amy Wadge kicked off the 10-week singing and composition initiative held at Fitzalan High School in Cardiff.
Collaboration between Aloud tutors and Fitzalan staff, the project aimed to get as many pupils singing and creating together; using music as a catalyst for confidence, aspiration and respect.
This song-writing project brought together 30 young men (aged between 14 and 19) from the Gurnos Estate in Merthyr Tydfil and from our OBA Choir in Aberdare. They worked with the Aloud Team, Choir Leaders, and Aloud Ambassador Amy Wadge to write, rehearse, perform and record a brand new song.
The boys took part in a series of workshops which included physical and vocal warm-ups, team-building exercises, learning of specific vocal techniques, lyric and song-writing skills, performance and presentation skills.
After the project was completed, many of the new boys from Merthyr joined their local OBA Choir. To find your local choir visit our OBA Choir page.
White Rose Primary School
The first of our Aloud in the Classroom activities, the White Rose project was a song-writing and singing workshop for the teachers and pupils at White Rose Primary School in New Tredegar.
This award-winning project was a huge success, providing valuable experiences for everyone involved.
Working in partnership with 4 care providers, led by Care Forum Wales, the Lovely Days project brought members of Only Boys Aloud from across Wales together with residents of local care. The project resulted in three 'Lovely Days Out' where members of the community, care home residents, and OBA members gathered together to share songs and carry on conversations that began during the previous weekly visits to the care homes.
This intergenerational project followed a pilot project that saw OBA move their weekly rehearsals into care homes during the Christmas season.
The project not only demonstrated that music has the power to unites people across generations, but gave members of OBA the opportunity to communicate and socialise with the care home residents.
Tim Rhys-Evans commented "It is very easy for younger generations to be 'shielded' from older people with fewer elderly people being looked after at home nowadays. Consequently, young people can have a rather skewed view of people in care homes and all too easily forget that they too were young once with wonderful life-experience, great senses of humour and colourful histories that they want to share. We know that spending time with young people has a tremendous impact on the wellbeing of older people and the benefits of singing together sums up everything that Aloud stands for."
You can watch a summary of the project on our YouTube Channel.
Help keep the music alive
By donating today, you'll be part of the Aloud story, helping us provide positive, life-changing experiences for young people across Wales.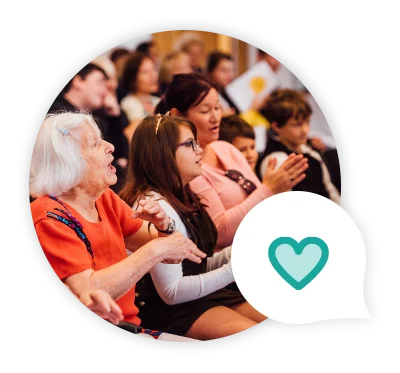 Calon means 'Heart' in Welsh and our Calon Members are the beating heart of The Aloud Charity, playing a vital part in our success.
Whether you want to run a marathon or take on your own charity challenge, you can help support our activity in your local area.