Only Kids Aloud is an umbrella term for the programme of activity designed for girls and boys in school years 5 and 6. Our OKA Chorus and the Aloud in the Classroom programme are both core elements of the project.
The Only Kids Aloud Chorus is an annual project that runs continuously for 12 months each year. We are proud to welcome between 80-100 talented girls and boys from across Wales to the programme each year, who audition for their place and enjoy residential-style learning. With no official National Children's Choir for Wales, OKA provides a high-quality choral experience for children from every corner of the country.
The Only Kids Aloud Chorus have had the opportunity to sing at some spectacular events since it's conception in 2010 including at BBC Proms in the Park, in the CBeebies' pantomime, alongside Bryn Terfel in Cape Town and with Valery Gergiev in St Petersburg.
Our Only Kids Aloud activity began as a series of workshops in primary schools across South Wales. After a couple of successful projects, the initiative developed further and began a collaboration with the Wales Millennium Centre and the Roald Dahl Estate. Together we created a brand-new online training resource for teachers, resulting in 4,500 schoolchildren singing together for a season of celebratory concerts. This led to the formation of the OKA Chorus and established the choir as a new member of the Aloud family.
We are very grateful to The Hodge Foundation for their generous sponsorship of the Only Kids Aloud Chorus and Aloud in the Classroom, without whom the project would not exist.
 We are thrilled to launch auditions for a new Only Kids Aloud Chorus for 2023! 
Why Join the Only Kids Aloud Chorus?
The OKA Chorus not only provides children with a platform; it introduces them to children from all parts of Wales, gives them the opportunity to sing together and pushes them to see their own brilliant potential.
Children who join the Only Kids Aloud Chorus become a part of a wonderful and supportive community of like-minded individuals who all support each other, cheer for one another and help others thrive.
Children in the OKA Chorus not only develop their musical abilities, but learn to become more self-reliant and independent, develop better time-management skills and learn to communicate more openly with others.
Residential-style Activities
Help keep the music alive
By donating today, you'll be part of the Aloud story, helping us provide positive, life-changing experiences for young people across Wales.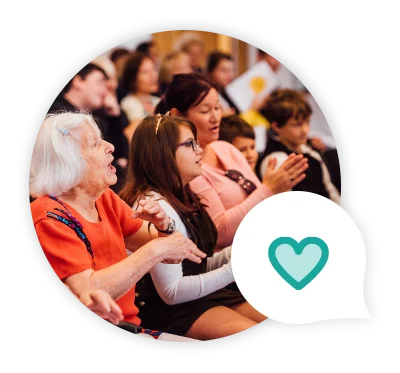 Calon means 'Heart' in Welsh and our Calon Members are the beating heart of The Aloud Charity, playing a vital part in our success.
Whether you want to run a marathon or take on your own charity challenge, you can help support our activity in your local area.
Sorry, there are no upcoming events. Please check back later.