White Rose Primary School
Back in 2019, Aloud ran a project in White Rose primary school, the school attended by our Founder Tim Rhys-Evans.
This was the first project in our Aloud in the Classroom programme where we wanted to try out some new ways of working to support primary school teachers in how they approach singing with children in the classroom.
White Rose Primary School is in New Tredegar, a former mining town in the Rhymney Valley – and a community hit hard by the closure of the pit. Aloud choir leaders worked with the children in the school – and their teachers – over a number of weeks to write a new school song based on their motto "Believe, Learn, Grow Together" which was then performed in front of a very starry audience – when TRH The Prince of Wales and the Duchess of Cornwall visited the school!
The project won an award at the Arts & Business Cymru Awards 2020 in partnership with The Hodge Foundation. 
Find out more about our education offer and how we can work with your school here:
Watch a summary of this project here
Song written by the children of the White Rose Primary School
This is my home, This is my town,
Ev'rybody's welcome here, have a look around!
This is my school, these are my friends,
We're like a family. We love to spend each day learning how to…
Chorus
Believe, Learn, Grow together!
Believe, Learn, Grow together!
Believe in friends and family,
And learn how we can live in harmony,
And grow, together.
And when I'm grown up and I step out on my own,
I'll think of all the lessons learned along the way.
Who knows how far away I'll travel from White Rose?
But where I go, I'll always know the things I'm telling you today…
So just Believe (Credu), Learn (Dysgu), and Grow (Tyfu) together (gyda'n gilydd)!
Believe (Credu), Learn (Dysgu), and Grow (Tyfu) together (gyda'n gilydd)!
And when I come to leave this school, I will always have this simple rule,
Believe and learn and grow together!
"I am so proud of what you and your team along with Nerys were able to achieve with our children, the opportunity you provided them with topped off with the HRH guests. You have all had a major impact on our children and school community – I don't think we will ever have a day that can top that. Thank you will never be enough."
Kathryn Thompson
Headteacher, White Rose Primary
Help keep the music alive
By donating today, you'll be part of the Aloud story, helping us provide positive, life-changing experiences for young people across Wales.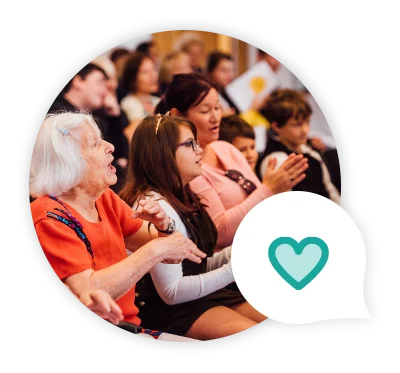 Calon means 'Heart' in Welsh and our Calon Members are the beating heart of The Aloud Charity, playing a vital part in our success.
Whether you want to run a marathon or take on your own charity challenge, you can help support our activity in your local area.