Our programme of work with schools across Wales.
We work with the best freelance vocal animateurs and workshops leaders right across Wales and have the expertise and track record of delivering high quality workshops. Our focus when delivering workshops to children and young people is not only singing and breathing techniques but ensuring the sessions are fun, accessible and engaging. We recognise that singing has benefits beyond the curriculum including other areas of school life and the young person's well-being.
Run by industry professional who are all DBS checked and who have years of experience of singing and workshop leading, we are also able to offer children and young people the opportunity to gain experience through working alongside singers, musicians and other creatives from the industry. Many of our freelancers are fluent Welsh speakers so we're able to offer sessions in Welsh or bilingually.
Our workshops can be adapted to suit any particular theme or curriculum requirements. We are also able to adapt the sessions to ensure they are accessible to all ages and abilities including any pupils with additional learning needs.
Contact us on [email protected] to discuss a bespoke package for your school. Price on application. 
Encouraging your pupils to sing through fun and engaging sessions | Suitable for all year groups
A creative session looking at all aspects of the songwriting process | Suitable for all year groups
A project for pupils transitioning from primary to secondary | Suitable for Years 6 & 7
Finding the voice of your staff
Sessions for staff at your school – from increasing their confidence to sharing resources.
"Bu'r cymryd rhan yn y prosiet yn fodd i'r disgyblion ddatblygu eu sgiliau cerddorol a gwella eu gallu lleisiol. Cawson nhw gyfle i ddysgu technegau canu cywir, rheoli anadl, a chywirdeb traw, a oedd nid yn unig yn gwella eu canu ond hefyd yn adeiladu eu hunanhyder wrth fynegi eu hunain trwy gerddoriaeth. Ar ben hynny, mae'n hysbys bod canu yn cael effeithiau cadarnhaol ar les meddwl a straen ac roedd hyn yn bwysig iawn wrth i ni groesawu'r disgyblion o'u ysgolion cynradd atom yn yr ysgol uwchradd."
Help keep the music alive
By donating today, you'll be part of the Aloud story, helping us provide positive, life-changing experiences for young people across Wales.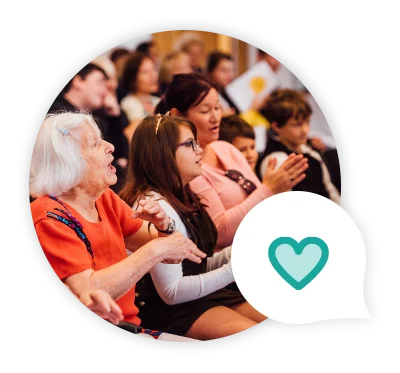 Calon means 'Heart' in Welsh and our Calon Members are the beating heart of The Aloud Charity, playing a vital part in our success.
Whether you want to run a marathon or take on your own charity challenge, you can help support our activity in your local area.