A series of school based workshops aimed at giving teachers the confidence to make singing a regular classroom activity for 8-11 year old boys and girls.
Aloud in the Classroom is the grassroots element of our work under the Only Kids Aloud banner. The projects engage with primary age children and their teachers, and take place within their school or community.
The projects develop and deliver resources for teachers to aid the teaching of music. This toolkit provides practical experiences for staff at the school, as well as offering the pupils wonderful and unique opportunities to participate in group singing. The period of transition from primary to high school is an ideal moment to engage with children, teachers and the wider community. Typically, Aloud in the Classroom projects work with clusters of feeder primary schools to create a strong impact across the local area which provides more and better opportunities for the children and young people as they move into Secondary School.
Improved singing skills in children
Improved singing and teaching skills in teachers
Sharing of Digital Learning and teaching resources 
Engagement with up to 100 children and 4 teachers per project
Engagement with parents and wider families and school community through final performance
Our most recent OKA: Aloud in the Classroom project was held at White Rose Primary School in New Tredegar.
OKA: Aloud in the Classroom is generous funded by The Hodge Foundation. We are grateful for their kind support, which allows this project to happen.
White Rose Primary School
The most recent of our Aloud in the Classroom activity, the White Rose project was a song-writing and singing workshop for the teachers and pupils at White Rose Primary School in New Tredegar.
This award-winning project was a huge success, providing valuable experiences for everyone involved.
"I am so proud of what you and your team along with Nerys were able to achieve with our children, the opportunity you provided them with topped off with the HRH guests. You have all had a major impact on our children and school community – I don't think we will ever have a day that can top that. Thank you will never be enough."
Kathryn Thompson
Headteacher, White Rose Primary
Help keep the music alive
By donating today, you'll be part of the Aloud story, helping us provide positive, life-changing experiences for young people across Wales.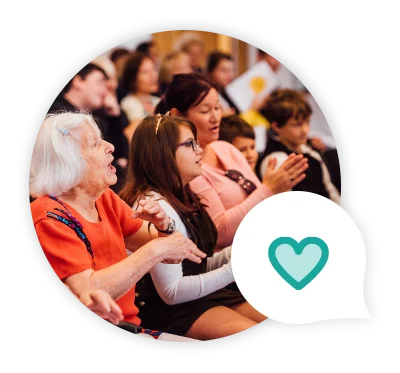 Calon means 'Heart' in Welsh and our Calon Members are the beating heart of The Aloud Charity, playing a vital part in our success.
Whether you want to run a marathon or take on your own charity challenge, you can help support our activity in your local area.
Sorry, there are no upcoming events. Please check back later.