Only Kids Aloud is a pan-Wales choir programme for children in years 5-6.
Only Kids Aloud Chorus
The Only Kids Aloud Chorus is an annual project that runs continuously for 12 months each year. We are proud to welcome around 70 talented girls and boys from across Wales to the programme each year, who audition for their place and enjoy regional rehearsals as well as   residential-style learning. With no official National Children's Choir for Wales, OKA provides a high-quality choral experience for children from every corner of the country.
The Only Kids Aloud Chorus have had the opportunity to sing at some spectacular events since it's conception in 2010.
Our 2024 Only Kids Aloud programme is now auditioning! The deadline to apply is 7th January 2024. Find out more in our blog here.
Why Join the Only Kids Aloud Chorus?
The Only Kids Aloud Chorus not only provides children with a platform; it introduces them to children from all parts of Wales, gives them the opportunity to sing together and pushes them to see their own brilliant potential.
Children who join the Only Kids Aloud Chorus become a part of a wonderful and supportive community of like-minded individuals who all support each other, cheer for one another and help others thrive.
Children in the OKA Chorus not only develop their musical abilities, but learn to become more self-reliant and independent, develop better time-management skills and learn to communicate more openly with others.
Girls & Boys in years 5 and 6
Residential-style Activities
At the beginning of 2021 we launched our Only Kids Aloud Alumni Scheme! Former members of Only Kids Aloud will have access to regular charity and event updates and will receive an exclusive Only Kids Aloud pin badge. It's a great way to keep in touch with everything Aloud.
Find answers to the most common questions we get about joining a choir, rehearsals, and performances.
Help keep the music alive
By donating today, you'll be part of the Aloud story, helping us provide positive, life-changing experiences for young people across Wales.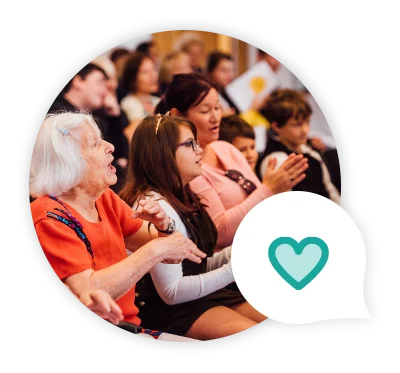 Calon means 'Heart' in Welsh and our Calon Members are the beating heart of The Aloud Charity, playing a vital part in our success.
Whether you want to run a marathon or take on your own charity challenge, you can help support our activity in your local area.
"Thank you so much for the wonderful opportunity Iona was given to sing with Only Kids Aloud.  She's loved the experience. It's been a privilege to work with such talented staff and choir members. Being part of Only Kids Aloud will enrich her whole life.  Having fun through music has been exhilarating.  The exacting high standards have been eye-opening.  She's made great friends and sang all the way home."
OKA Parent
"Just a short e-mail to thank you all for what was an incredible concert in Colwyn Bay on Saturday evening. To say it was a triumph is an understatement. With Katherine Jenkins and Lee Mead on the bill, it may have been easy to think that OKA were there to make up the numbers. This was not the case. They received the biggest applause and standing ovation of the evening. The wall of sound they created made the hairs on the back of your neck stand on end. It really was that good. Congratulations."
OKA Parent
"I would like to thank you all for helping Joseph develop as a singer and performer. He used to be quite a shy little boy living in the shadows of his older brothers, however that has now changed. He has now been given a love of singing and working together as a team. He cannot wait for his next adventure with you and is counting down the days till he can join Only Boys Aloud like his brothers. As a parent, I cannot overestimate the importance of experiences like Saturday night along with the rehearsal process. As a Teacher it makes me proud that my family are involved in various stages of the Aloud process given the lack of funding in education for the Arts and music in particular."
OKA Parent