Only Kids Aloud is an umbrella term for the programme of activity designed for girls and boys in primary schools. Our OKA Chorus and the Aloud in the Classroom programme are both core elements of the project.
A pan-Wales Chorus for boys and girls aged 9-12. Initially a joint project with Wales Millennium Centre the Chorus have performed with Bryn Terfel in Cape Town, sung Mahler with Gergiev in St Petersburg and appeared in the CBeebies' pantomime.
Aloud in the Classroom is the grassroots element of our work for younger children, and through it we support the teaching of singing in primary schools through fun and engaging workshops and performances.
At the beginning of 2021 we launched our Only Kids Aloud Alumni Scheme. Former members of Only Kids Aloud will have access to regular charity and event updates and will receive an exclusive Only Kids Aloud pin badge! It's a great way to keep in touch with everything Aloud!
Help keep the music alive
By donating today, you'll be part of the Aloud story, helping us provide positive, life-changing experiences for young people across Wales.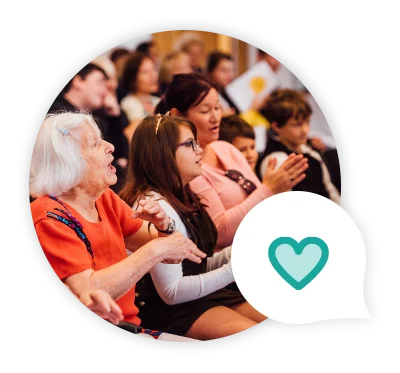 Calon means 'Heart' in Welsh and our Calon Members are the beating heart of The Aloud Charity, playing a vital part in our success.
Whether you want to run a marathon or take on your own charity challenge, you can help support our activity in your local area.
"Thank you so much for the wonderful opportunity Iona was given to sing with Only Kids Aloud.  She's loved the experience. It's been a privilege to work with such talented staff and choir members. Being part of Only Kids Aloud will enrich her whole life.  Having fun through music has been exhilarating.  The exacting high standards have been eye-opening.  She's made great friends and sang all the way home."
OKA Parent
"Just a short e-mail to thank you all for what was an incredible concert in Colwyn Bay on Saturday evening. To say it was a triumph is an understatement. With Katherine Jenkins and Lee Mead on the bill, it may have been easy to think that OKA were there to make up the numbers. This was not the case. They received the biggest applause and standing ovation of the evening. The wall of sound they created made the hairs on the back of your neck stand on end. It really was that good. Congratulations."
OKA Parent
"I would like to thank you all for helping Joseph develop as a singer and performer. He used to be quite a shy little boy living in the shadows of his older brothers, however that has now changed. He has now been given a love of singing and working together as a team. He cannot wait for his next adventure with you and is counting down the days till he can join Only Boys Aloud like his brothers. As a parent, I cannot overestimate the importance of experiences like Saturday night along with the rehearsal process. As a Teacher it makes me proud that my family are involved in various stages of the Aloud process given the lack of funding in education for the Arts and music in particular."
OKA Parent