When their time at Only Kids Aloud comes to an end, members can continue to enjoy their Aloud experience in Only Boys Aloud or Only Girls Aloud.
You will always be part of Aloud!
The Aloud Charity has been privileged to work with thousands of children over the years through our Only Kids Aloud programmes and it's wonderful when past participants stay connected with us, and with each other.
In 2020, we developed a new OKA Alumni Scheme, giving ex-members the opportunity to continue to their relationship with Aloud and to keep in touch with OKA friends.
When an OKA member becomes an Alumni, they are awarded with a special pin badge to commemorate their time with the choir.
Stay up to date with Aloud news, events and performances
Keep in touch with OKA friends
Be included in future opportunities to sing together
Have you been a member of our Only Kids Aloud Choir, or do you know someone who has? Please contact us today and let us know. We'd love to keep in touch and help you stay connected with The Aloud Charity.
If you have any questions about becoming an Alumni or the next stage in your Aloud journey, you can contact us at [email protected].
"I had to write to thank you all for the out-of-this-world experience you gave my daughter. She has always loved to sing and her school has given her a few opportunities to do this, but what she got out of being part of Only Kids Aloud has been on another level completely."
OBA Parent
"It is hard to put into words the effect that working closely with experts like yourselves with so much passion and enthusiasm for music and singing has had on her. She has more confidence and even more joy in singing and is more willing to try anything new. She has also benefitted from meeting children just like her from all over Wales and experiencing how magical it can be to sing with so many others who love it as much as you do. She has made friendships that I think will last forever."
OBA Parent
Help keep the music alive
By donating today, you'll be part of the Aloud story, helping us provide positive, life-changing experiences for young people across Wales.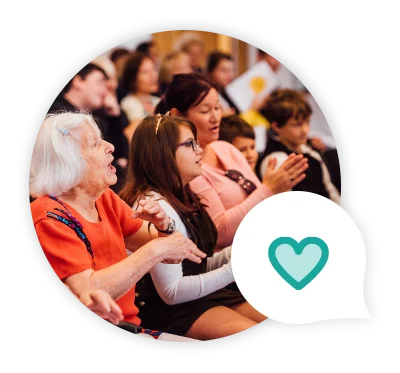 Calon means 'Heart' in Welsh and our Calon Members are the beating heart of The Aloud Charity, playing a vital part in our success.
Whether you want to run a marathon or take on your own charity challenge, you can help support our activity in your local area.