Our Only Girls Aloud choir launched in 2022 in response to high demand from the communities we work with.
Only Girls Aloud is our choir programme for young women in years 7 to 13 in Wales which launched in 2022.
Rehearsals take place monthly  in South Wales and (from autumn 2023) West Wales and are free and non-auditioned.
Only Girls Aloud choir members have the opportunity to meet a variety of inspirational guest speakers and hear about their life-experiences, career paths, and stories. This has resulted in an engaged and aspirational group who support each other to develop their confidence and self-expression.
Only Girls Aloud made their debut performance in the Aloud Anniversary Concert 2022. They also appear on the new anniversary album GEN Z and featured in the 4 part Aloud documentary for S4C.
Only Girls Aloud is a safe, inclusive, friendly, and non-judgemental environment and we're always welcoming new members.
If you have any questions or would like to find out more how to get involved contact: 
South Wales: [email protected]
West Wales: [email protected]
We would like to thank Arts Council of Wales: Create, Scops Arts Trust and Ty Cerdd for their support of Only Girls Aloud.
Only Girls Aloud is coming to West Wales!
We're delighted to announce the launch of an Only Girls Aloud choir in West Wales.
If you or someone you know would like to join Only Girls Aloud in West Wales contact us on [email protected] to register your interest!
In 2022 we launched a new Album Gen Z to celebrate our 10th Anniversary. Listen to Only Girls Aloud and our other Aloud choirs.
Only Girls Aloud members have a busy programme of performances throughout the year! Explore our upcoming events.
The album features our three choirs: Only Boys Aloud, Only Girls Aloud, and Only Kids Aloud. Tracks range from West End hit You Will Be Found from Dear Evan Hansen to more traditional Welsh songs such as Gwinllan. 
Previous Guest Speakers
Chloe Smith of Bigmoose Coffee Co.
Chloe has been involved with Bigmoose Coffee Co. since its inception, and her passion to help others shone through from the two years she spent helping feed rough sleepers in Cardiff.
A determined individual, she climbed Mount Kilimanjaro aged 15, ran a 42 mile ultramarathon aged 22, and opened Bigmoose Coffee Co. aged 23.
Chloe exudes a passion for helping others, and is a keynote speaker, with an infectious spirit of can do!
"The choir is boosting my confidence, not just in singing but in making friends, speaking to people and in school."
Only Girls Aloud Choir Member
"The choir is a fun way to make friends and learn about my voice."
Only Girls Aloud Choir Member
Find answers to the most common questions we get about joining a choir, rehearsals, and performances.
Help keep the music alive
By donating today, you'll be part of the Aloud story, helping us provide positive, life-changing experiences for young people across Wales.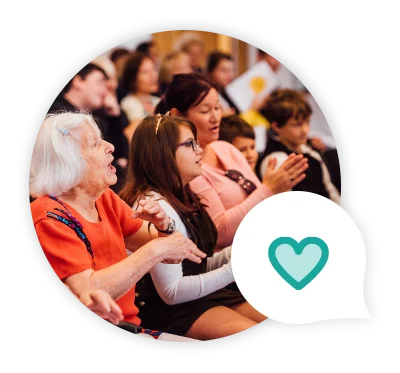 Calon means 'Heart' in Welsh and our Calon Members are the beating heart of The Aloud Charity, playing a vital part in our success.
Whether you want to run a marathon or take on your own charity challenge, you can help support our activity in your local area.