Through weekly choir rehearsals, we use the power of group singing to inspire young men to find confidence, community, joy and friendship.
Only Boys Aloud (OBA) was born from a desire to encourage young Welsh men to be ambitious and equipped with the skills to succeed in life, and in any career. Made up of 200 boys attending 13 choirs across Wales, local choirs come together every week in term time to have fun and rehearse in community centres and rugby clubs.
From seasoned singers to those who've never tried it before, our doors are always open to new members; any boy between the ages of 11 and 19 can join. OBA is completely free, non-auditioned and non-judgemental. Our ethos is inclusivity; we are open to all, regardless of background.
Being the only project of its type in Wales, OBA runs in some of the most deprived and disadvantaged areas of the country. It is a solution to the low levels of self-esteem and aspirations often experienced by teenage boys. OBA provides positive role-models, builds confidence, improves wellbeing, teaches values of respect and diversity, and fosters lifelong friendships.
Led by professional choral leaders, members receive high-quality musical experiences, performance training and opportunities to perform in prestigious events. Boys sing a varied repertoire of modern pop classics and traditional Welsh choral music.
OBA Alumni have become successful in all walks of life, including as musical theatre stars, scientists, opera singers, accountants and policemen.
Why join an Only Boys Aloud Choir?
Our experienced choral leaders help our boys develop their own self-confidence. Whether it's through performing on stage, getting a solo line or singing in a recording studio, their newfound self-esteem will shine through in everyday life.
Our members and their families often describe their involvement in our activity like being part of a family. We are proud to contribute more engaged and energised people to our society.
Through OBA, our members learn life-skills that help them reach their potential, whatever path they choose in life. Beyond singing, they'll experience working as a team, interacting with others and public speaking.
Come along to our next rehearsal and experience for yourself what it's like to be in OBA. We are welcoming, friendly and relaxed, and always love to see new faces, so why not try out a session and see if it's for you.
We are delighted to be expanding our OBA choirs into West Wales, developing new choirs in Pembrokeshire, Ceredigion and Carmarthenshire.
Read our Only Boys Aloud is Heading West news item to find out more or contact [email protected] to register your interest!
"I moved from Manchester to North Wales in 2015, and a group of friends in my school kept telling me to come to an OBA session. Back then being a 'City Boy' I thought I was too cool to sing in a Welsh choir. Eventually to stop them nagging I went to a session. I was completely wrong in thinking it wasn't cool. Being in OBA really matured me as a person and I'm so grateful for that. I could never even have imagined the amount of wonderful experiences I have had through OBA."
Harly
Ex-member of Holyhead OBA.
"My son started at Only Boys Aloud as a shy boy with no self-confidence and he has grown into a man who is confident around people. He has chosen music as a career thanks to the opportunities and nurture from OBA mentors. It's difficult to put into words just how much it has changed his life and how proud and thankful I am as a mother."
OBA Parent
Help keep the music alive
By donating today, you'll be part of the Aloud story, helping us provide positive, life-changing experiences for young people across Wales.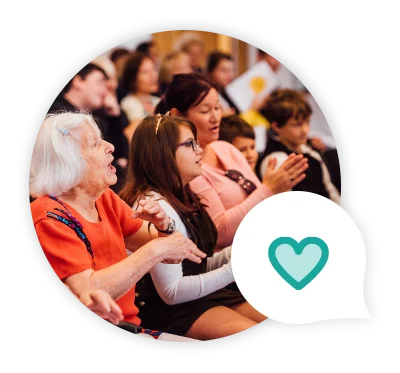 Calon means 'Heart' in Welsh and our Calon Members are the beating heart of The Aloud Charity, playing a vital part in our success.
Whether you want to run a marathon or take on your own charity challenge, you can help support our activity in your local area.
Sorry, there are no upcoming events. Please check back later.