Our OBA Members' Forum gives our participants the opportunity to share their opinions and suggestions, establishing a deeper sense of ownership of their choir.
Only Boys Aloud is a choir for young people and the voice of young people is important to us at Aloud.  
The Only Boys Aloud Members' Forum consists of representatives from each of the OBA choirs across Wales. The Forum meet once a term to discuss matters that are important to them as OBA members. The Forum representatives are given the opportunity to give their input in to the work of Aloud and a chance to give their opinion on the development of Only Boys Aloud.  
The Forum members also act as representatives of OBA – recently, the Forum members represented Aloud in our virtual project with Japan and during a project with the Y7 which consisted of creating a video voicing youth issues for the world leaders attending the G7 summit held in the UK.  
The Forum is also a platform for the boys to come up with fundraising ideas for the charity and an opportunity to run their own fundraising events for Aloud. Being a member of the Forum increases the member's confidence, improves their listening and communication skills and gives the boys a sense of pride in their OBA choir.  
In Spring 2021, our OBA Forum Members were proud to take part in the G7 Youth Summit. Below is a short video which was presented at the event, which highlights global issues most important to them.
"Only Boys Aloud has been life changing for me. It has given me a direction in life and has given me the confidence to believe in myself and realise nothing is impossible and there are opportunities out there for every kind of person from all types of backgrounds."
"I had an opportunity to go to university in Cambridge, and the reason I chose to stay in Wales was so that I could continue to sing with Only Boys Aloud!"
Elliot Howells
Former OBA Member
"Don't wait around. Join as soon as you can. If you are interest in music or want to pursue any career in the Arts, improving your singing is the best way to do it. The friends for life that you make are amazing and the experience that you get are once in a lifetime. They're memories which you will cherish forever."
James Evans-Jones
Former OBA Member
"My ambitions as a teenager where to either be on stage or be behind the scenes working in the west end or internationally. If it wasn't for OBA bringing out my confidence drive and the passion to achieve anything, I wouldn't be a professional sound engineer today. "
Daniel Davies
Former OBA Member
Help keep the music alive
By donating today, you'll be part of the Aloud story, helping us provide positive, life-changing experiences for young people across Wales.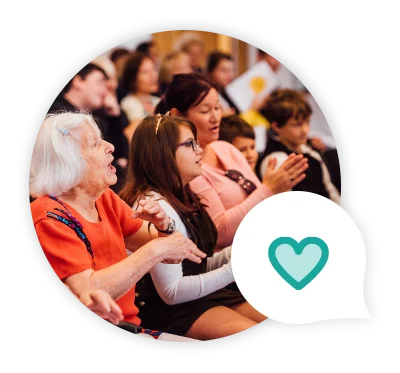 Calon means 'Heart' in Welsh and our Calon Members are the beating heart of The Aloud Charity, playing a vital part in our success.
Whether you want to run a marathon or take on your own charity challenge, you can help support our activity in your local area.