A wonderful community of young people looking to make new friends, keep Welsh traditions alive and learn new skills.
Only Boys Aloud is made up of over 200 boys attending 15 choirs across Wales each week. There are no auditions and it's free to join.
Please follow us on our OBA social media channels to stay up to date with our latest releases, stories and events.
A residential course for OBA members more serious about pursuing a career in the performing arts, and with the greatest commitment and vocal potential.
A vibrant group of former members who have graduated from OBA to go on to further studies or employment.
Our OBA Members' Forum gives our participants the opportunity to share their opinions and suggestions, establishing a deeper sense of ownership of their choir.
Working in collaboration with the Care Forum Wales, each of the Charity's Only Boys Aloud choirs moved their weekly rehearsals to a local care home, giving residents the chance to join in and experience a few hours in the life of one of the world's biggest boybands. The project culminated with the OBA members and residents at the home presenting an evening of carols and songs to family and friends.
Lovely Days was an intergenerational project aiming to combat some of the isolation older people can feel and introducing them to some of our boys from OBA. Everyone coming together with one purpose of singing together which is something we value and truly believe in.
Only Boys Aloud - You Will Be Found from Dear Evan Hansen
Help keep the music alive
By donating today, you'll be part of the Aloud story, helping us provide positive, life-changing experiences for young people across Wales.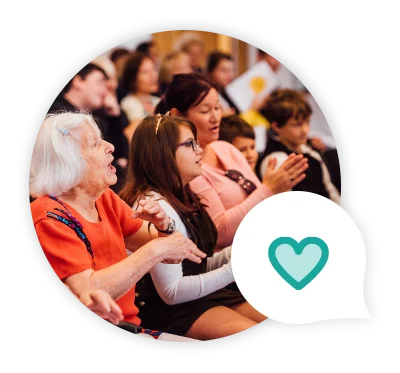 Calon means 'Heart' in Welsh and our Calon Members are the beating heart of The Aloud Charity, playing a vital part in our success.
Whether you want to run a marathon or take on your own charity challenge, you can help support our activity in your local area.