ONLY BOYS ALOUD AGES 16-19
Our advanced summer residential course for those OBA members who show greatest potential, or those looking to pursue a career in the performing arts.
We hold annual auditions for anyone already in our Only Boys Aloud Choir who is interested in joining the OBA Academi and between the ages of 16-19.
Each year 32 successful applicants receive one of the highly sought-after places on this unique residential course. The lucky selection will receive general musicianship tuition as a group, individual singing lessons and advanced singing tuition from professional coaches, on top of perfecting usual OBA repertoire.
Boys involved with the Academi need to be prepared to expect a busy calendar year – not only must they maintain full attendance at regular OBA rehearsals, but commit to a week-long residential course to refine their vocal skills and provide in-depth group rehearsal.
We are incredibly grateful to The Mosawi Foundation for their direct support to the OBA Academi programme. 
Why join Only Boys Aloud Academi
Our Academi choir performs more challenging repertoire in a broader range of languages and musical styles, and offers more ambitious and high-quality training for our most talented and driven boys.
Academi boys have an increased number of high-profile public performances throughout the year, and have more responsibility to represent the Aloud brand in a positive way.
Many of our Academi alumni have gone on to study at Music Colleges and Conservatoires across the country.
Unique performance opportunities
Residential-style Learning
Come along to our next rehearsal and experience for yourself what it's like to be in OBA. We are welcoming, friendly and relaxed, and always love to see new faces, so why not try out a session and see if it's for you.
"He is more focused in his life, on his decisions about the future. He plans and organises more than in previous years. He has become more self-sufficient rather than dependent."
OBA Parent
"I'd always really gone for what was passable, but since I joined OBA, I strive for perfection in everything."
OBA Member
Help keep the music alive
By donating today, you'll be part of the Aloud story, helping us provide positive, life-changing experiences for young people across Wales.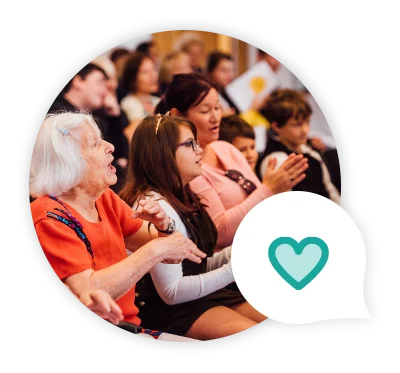 Calon means 'Heart' in Welsh and our Calon Members are the beating heart of The Aloud Charity, playing a vital part in our success.
Whether you want to run a marathon or take on your own charity challenge, you can help support our activity in your local area.