Choral Activities with Girls
We are excited to be developing new choral activities for Young Women in Wales. Our new projects have been established in response to high demand from the communities we work with.
For some time we have been aware of the huge demand for The Aloud Charity to offer a singing programme for teenage girls. We also know that the challenges facing young women in Wales are often very different to those facing young men.
In 2020, we launched our very first pilot project working with girls in Fitzalan High School to begin laying the foundations for established activities for girls. The project, led by Grammy Award-Winning Singer-Songwriter and Aloud Ambassador Amy Wadge, engaged students from a range of ethnic backgrounds in a series of song-writing workshops.
Our experiences at Fitzalan High School provided useful insight into the best way to develop Singing Activities for Girls, and we are in discussion with Youth and Arts organisations in our networks to create a blueprint for our future plans.
To stay up to date on news about our Activity with Girls, sign up to our newsletter using the link below or follow us on our social media channels.
If you are a past member of Only Kids Aloud and are interested in getting involved in future activities with teenage Girls, make sure you sign up to our OKA Alumni Scheme to receive the most up to date information.
Aloud Girls 2021
We are delighted to introduce Aloud Girls! Sing, make new friends and be part of a growing community.
Thanks to the generous support from the Arts Council of Wales, we are hugely excited to announce a 12-session pilot project for girls aged 11-16.
The very first Aloud Girls session will take place in Cardiff and will run once a month for 12 rehearsals.
Come and join a taster session on the morning of 

Saturday 16 October

Sessions will be held in a Central Cardiff location
No auditions – no fees
Email [email protected] to register for the taster session.
"Working with the Aloud staff was an absolute pleasure and privilege which has informed our future practice. Aloud staff were supportive of pupils and staff which created a wonderful atmosphere each week. We have thoroughly enjoyed collaborating with Aloud and look forward to working together again."
Music Staff
Fitzalan High School
"My confidence has improved. Originally, I was scared to sing in front of people - it's embarrassing to mess up. But I've learnt that everyone messes up so why should I feel embarrassed? I'm not going to volunteer to sing the solo but if they give me the solo, I'll give it a go."
Pupil
Fitzalan High School
Help keep the music alive
By donating today, you'll be part of the Aloud story, helping us provide positive, life-changing experiences for young people across Wales.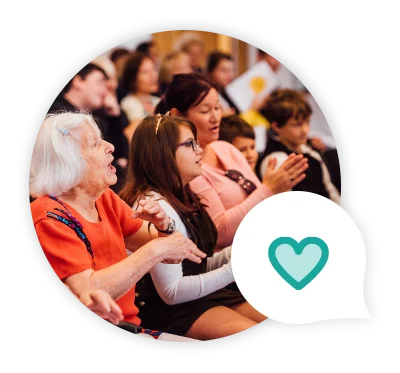 Calon means 'Heart' in Welsh and our Calon Members are the beating heart of The Aloud Charity, playing a vital part in our success.
Whether you want to run a marathon or take on your own charity challenge, you can help support our activity in your local area.