At The Aloud Charity we take pride in the wonderful work we do. Whether it's working as a choir leader and helping the boys at Only Boys Aloud with their vocal training, fundraising for the charity, assisting with our busy events calendar or something else entirely we like to have fun and work on bettering our community.
Role Description
Download PDF > Trustee Full Job Description April 2022
Download PDF > Equal Opportunities Form - Dwyieithog
The Aloud Charity is looking to appoint two trustees to its board. One with experience of the arts, either in management, governance or as a practitioner; the other someone who has experience of working with young people OR fundraising. 
For the Trustee with experience of the arts, we are looking for candidates with knowledge and experience of how arts organisations work, particularly the marriage of creative artistic ambition with prudent management of available resources. 

 
For the other Trustee, we are looking for candidates with knowledge of working with young people or fundraising. This will support us to operate in the most effective way, specifically around issues of safeguarding and connecting with young people OR developing a more diverse funding base

 
We are specifically looking for an alumni of Only Boys Aloud to fill one of these positions. This is important to us as they have lived experience of the charity's work and can inform the board of the issues that are important to participants and young people alike.
For both roles, we would welcome applications from candidates who care deeply about the arts and their impact on the lives of young people. We're also looking for people who believe in The Aloud Charity's mission, which is to transform lives together through the power of song.
The Aloud Charity positively welcomes and encourages applications from groups of people who are under-represented including the Global Majority, D/deaf, Disabled and Neurodivergent people, Welsh speakers and those with protected characteristics. The principles of fair and open competition will apply, and appointments will be made on merit.  
If you would like an informal conversation about the role with either the Chair or Chief Executive, please contact [email protected] 
Deadline for applications 3pm May 13th 2022 
Only Boys Aloud Community Leader (Volunteer)
Role Description
We have a fabulous group of volunteer Community Leaders and we simply couldn't do it without them!
From attending weekly rehearsals and events to helping to tie ties, they are key members of the team and we are always keen to hear from anyone who'd be interested in becoming a Community Leader.
If you would like more information about the role, please contact us for more information [email protected]
Help keep the music alive
By donating today, you'll be part of the Aloud story, helping us provide positive, life-changing experiences for young people across Wales.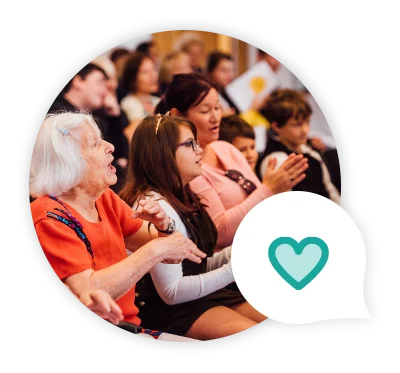 Calon means 'Heart' in Welsh and our Calon Members are the beating heart of The Aloud Charity, playing a vital part in our success.
Whether you want to run a marathon or take on your own charity challenge, you can help support our activity in your local area.